"Racing is life. Anything before or after is just waiting." Steve McQueen, Le Mans 1971.
Mr McQueen was of course correct .It doesn't matter what you are racing, from million dollar sports cars to go-carts. Its like automotive crack. Once you have been bitten it's an all-consuming passion that can deem everything else in your life insignificant.
Well for the gear jamming smoke junkies of the British Drift Championship the waiting for their next fix is almost over.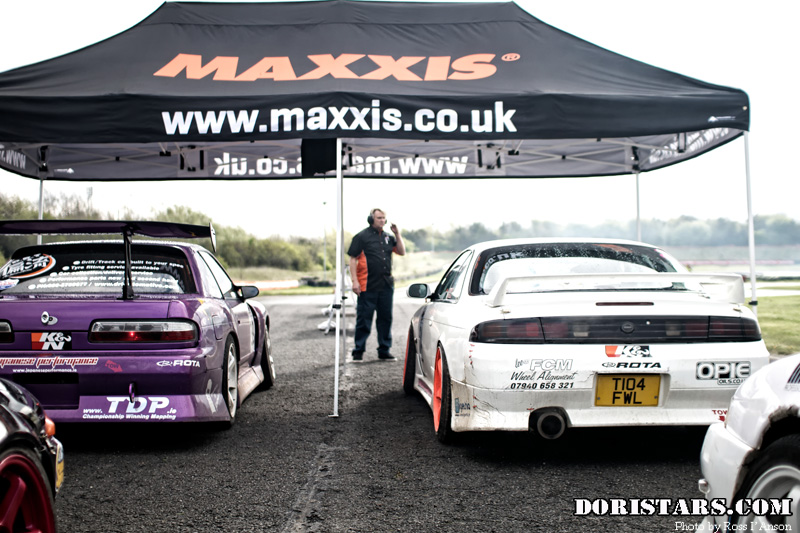 In just a few days time the circuits of the UK will once again resonate again to a tortured rubber soprano, six cylinder baritone and  V8 Bass line.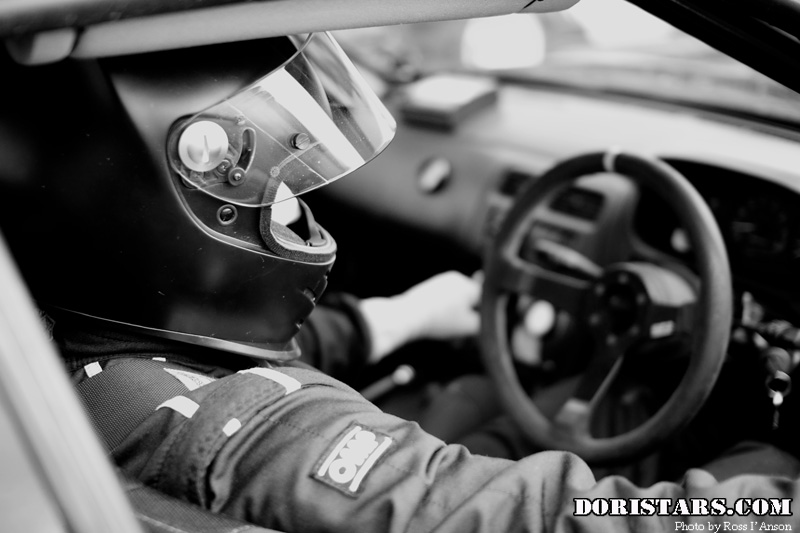 If you listen very carefully you can hear the sound of spanners being twirled as the 100+ competitors feverishly put the final touches to their 2013 machines. You want to book some dyno time in the UK right now.. Good luck!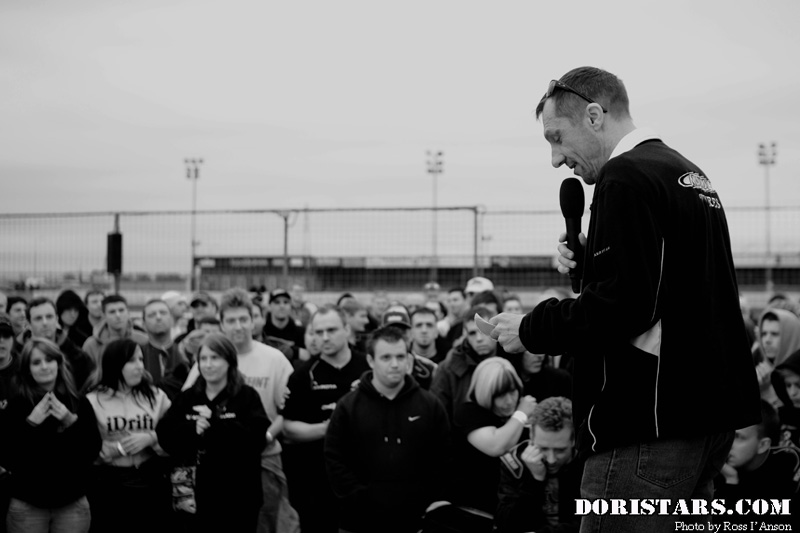 The off-season as usual has been filled with team changes, rumors and banter. But very soon its gonna be 'money where your mouth is' time..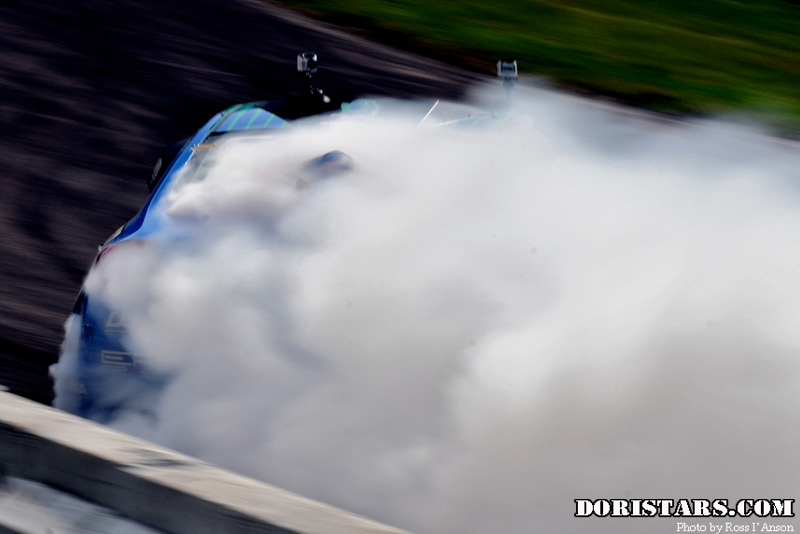 Yes. on the 13th of April The British Drift Championship is open for business for the 2013 season. And what a season its lining up to be! I'm looking at my notes as I'm typing and what started off with a phone call to BDC director Mark Buckle and a scrawled page in my note-book has rapidly grown to 15. Where do you start?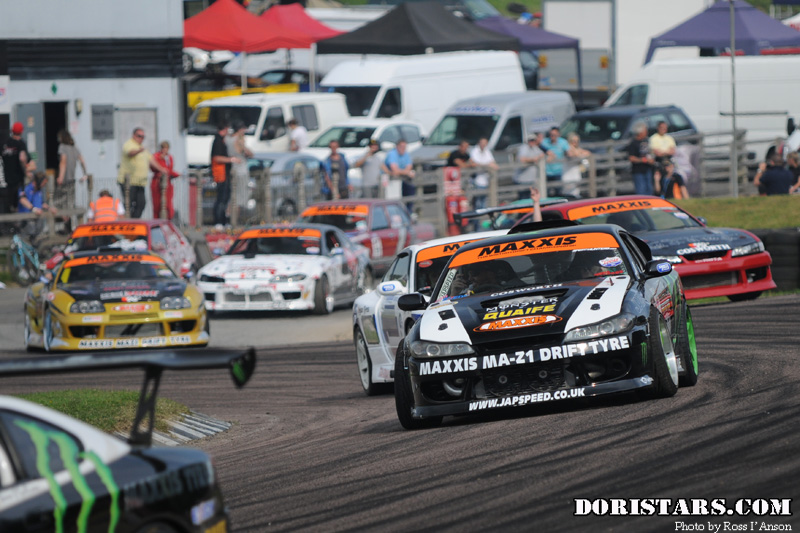 Well lets start at the beginning. 2013 sees a change of venues for the BDC. The season kicks off with a weekend visit to Lydden Hill in Kent on the 13th and 14th of April. Then for Round two a bit of a leveler, On the 8th and 9th of June BDC  returns to Wales and for the first time to the Pembrey Circuit.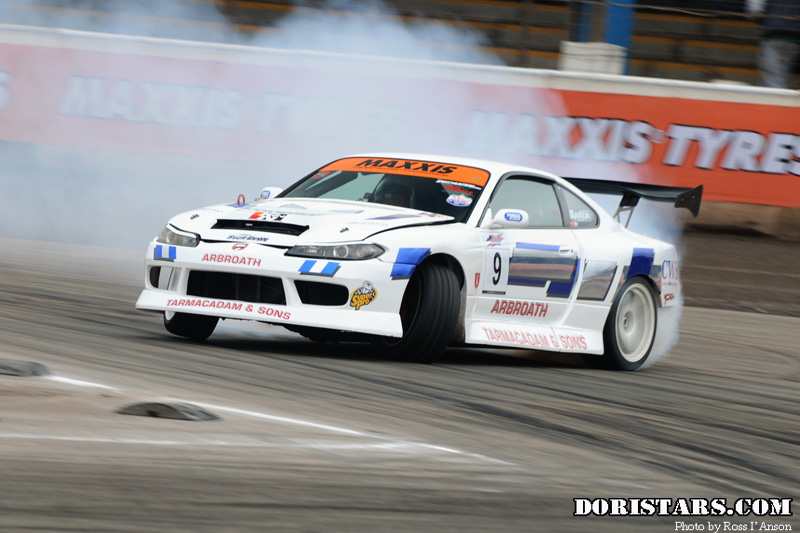 Round Three on the 5th and 6th of June is back to the birthplace of the BDC, Teesside Autodrome. The 5th will see  Round 3 played out while the 6th will see the annual BDC 'team battles comp '.
Then its a big hike back down South for a second visit to Lydden Hill on the 10-11th of August, followed by a jump right ooop North for the Finals on the 21-22nd September at the amazing Knockhill circuit. Right that's the where and when taken care of, But what about the how? So much has happened in the off-season its difficult to know where to start..
Team Falken have been busy in the off-season. 2011 Super-pro champion Matt Carter has finally retired the trusty S14 and is currently building an all new wide-body 1JZ powered R32.  Team mate Paul Cheshire  is still running the clam-shelled G35 but with a fresh 700hp+ engine.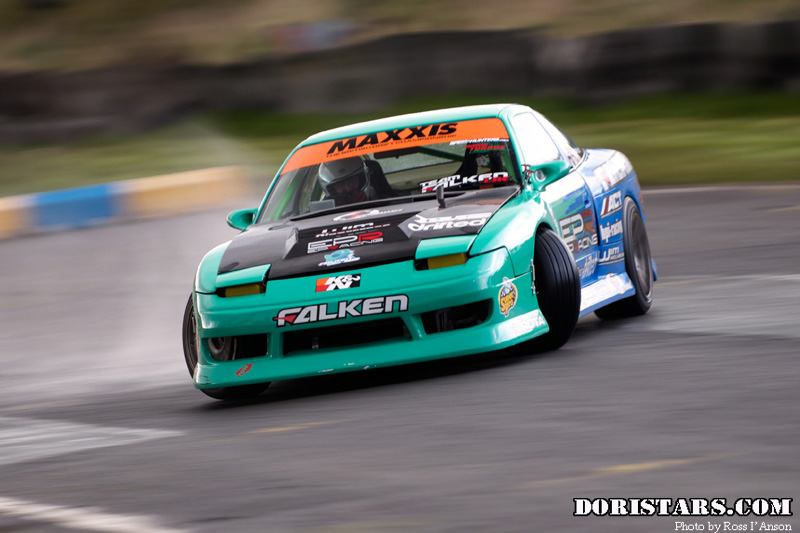 Alan Green will be in the S13 again but now with a full on 10,000+rpm Mazworx engine, Really looking forward to hearing that on full chat.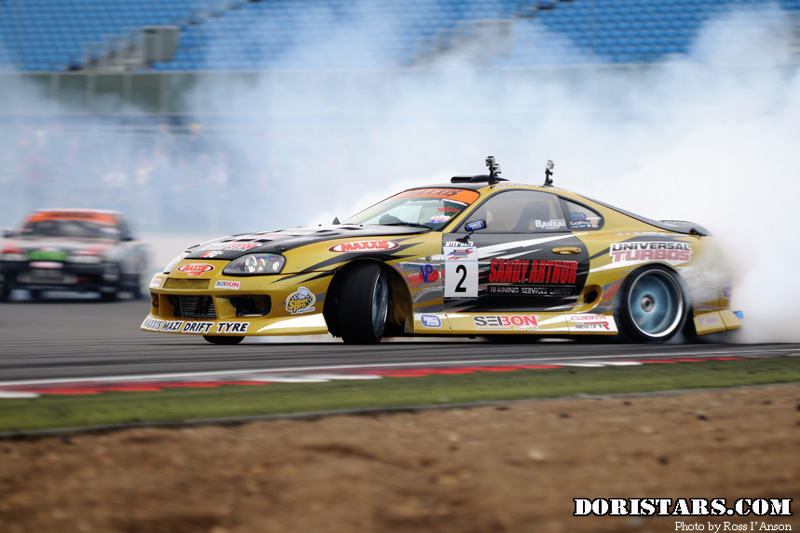 2012 was a pretty good year for Mark Luney  and Team SATS. Joint 3rd place in the drivers championship and 2nd in the constructors that's pretty good going in a hotly  contested five round championship. But in Luneys own words " The car was a gazillion horse power uncontrollable mechanical bastard that broke everything, including my heart!"..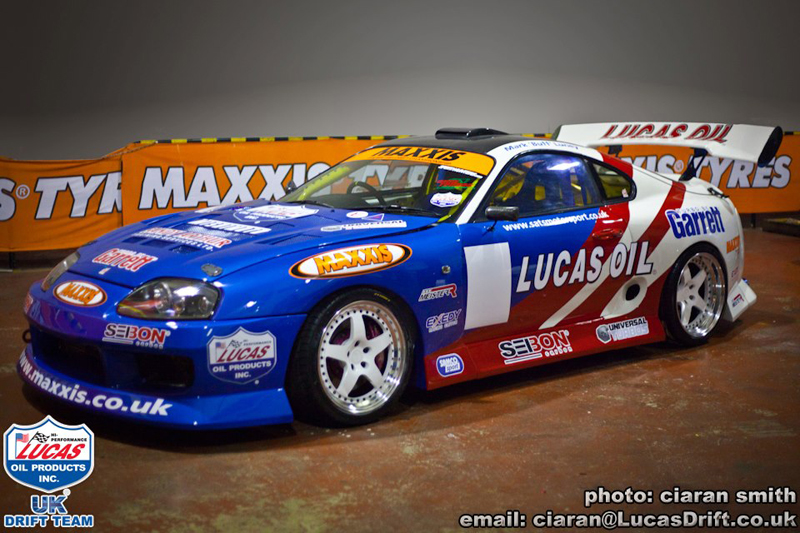 ..But now running as  Lucas Oils UK Drift Team an outright win is on the to-do list. The management and driver are the same but the car is a totally different beast altogether. Now tuned for drive-ability rather than outrageous power, and with the underpinnings radically changed, Lucas Oils Drift Team are right up there in championship race.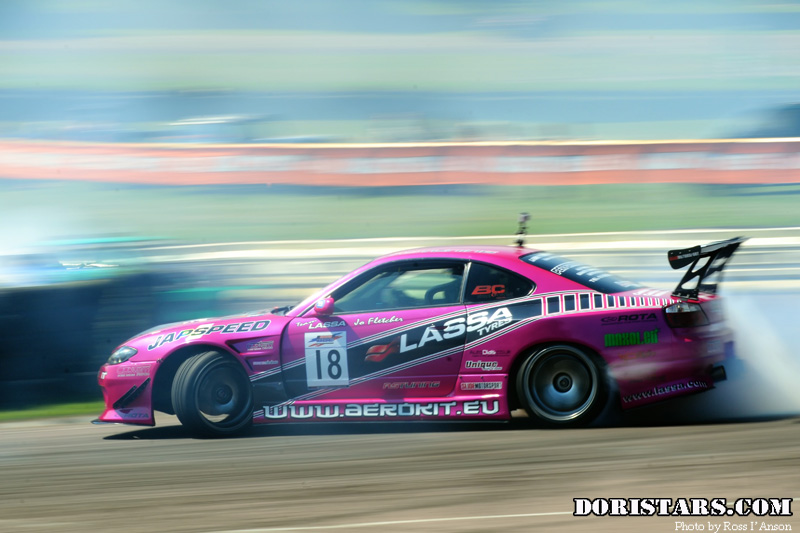 Team Lassa Tyres are back with the same three car line up as 2012 and a brand new team truck for the 2013 season.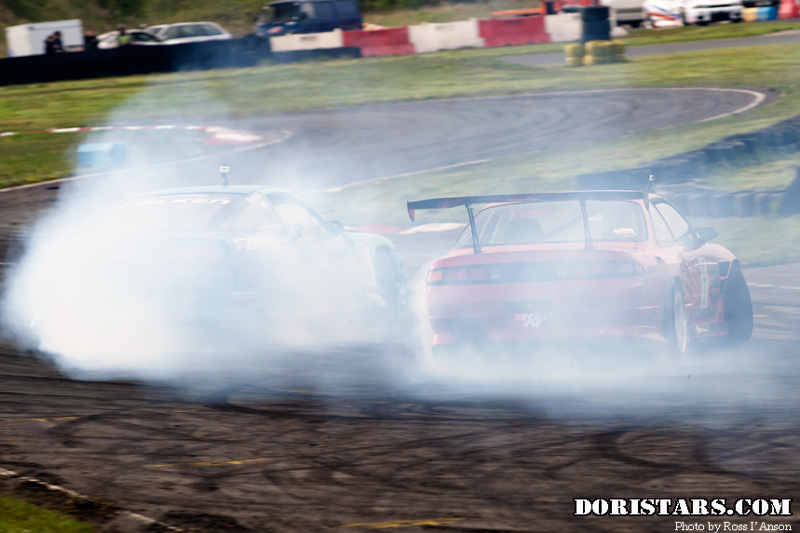 Steve Moore got a second overall in the 2012 super-pro class. For 2013 very little car wise has changed as far as we know.. If it aint broke then why fix it? You can count on Mr Moore being right up there all season.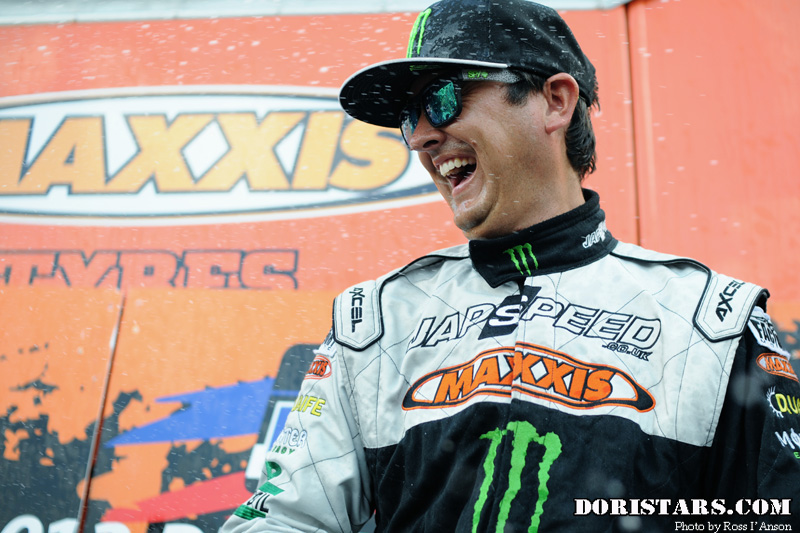 Paul Smith will of course be back to defend his 2012 Super-pro crown. Super consistent and with the ability to turn it up to eleven when needed, he's going to be hard to beat.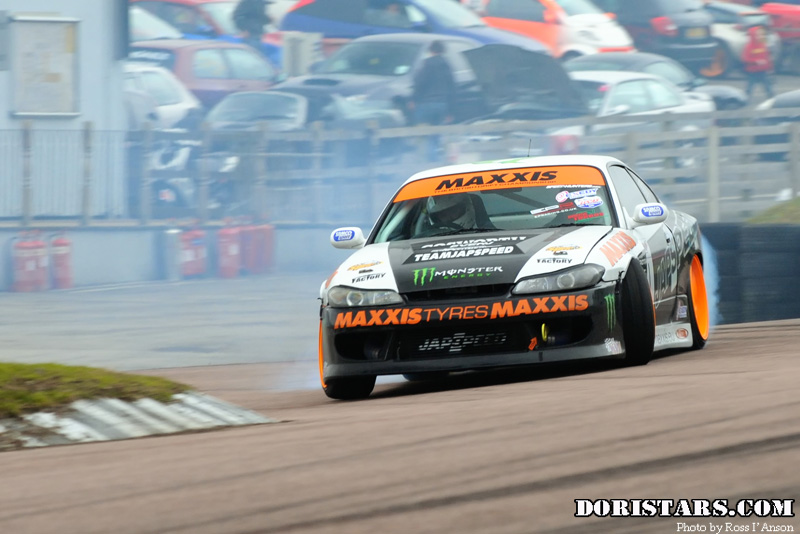 And if a recent test day is anything to go by, the car is 100% ready to rock and roll. A 2JZ bottom end will be installed  mid-season making it an even more formidable weapon.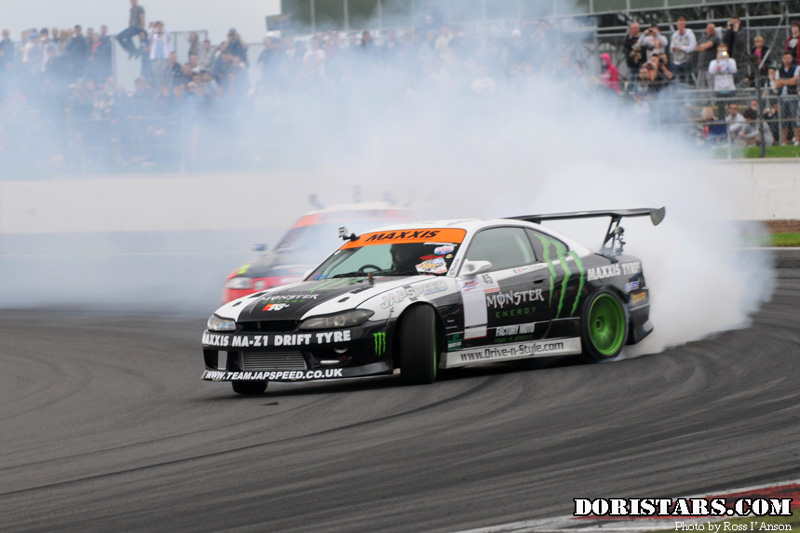 Paul will be joined at Team Japspeed by Shane O'Sulivan and Shane Lynch as per 2012..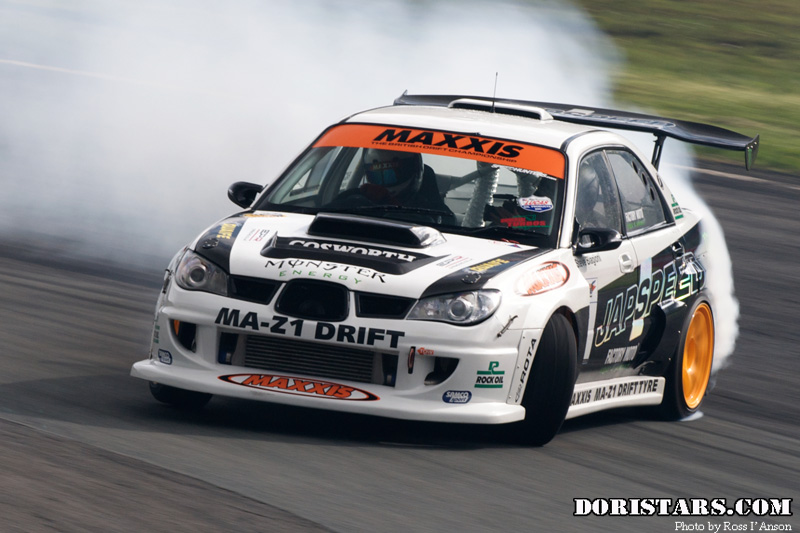 ..But with the departure of Steve Biagioni to Team Acorn insurance for 2013 it leaves a seat open in the Japspeed Subaru.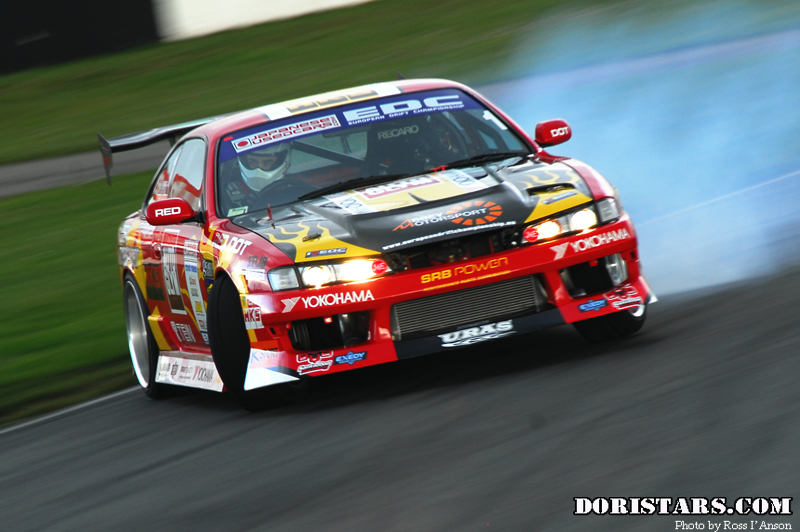 There has been no official announcement from the Japspeed camp as yet, but rumor has it the seat will be filled by ex European champion and all round Drifting legend Brett Castle.
Kevin Corsius steps up to Super-pro for  2013, so expect mega entries and door to door action from the Belgian driver.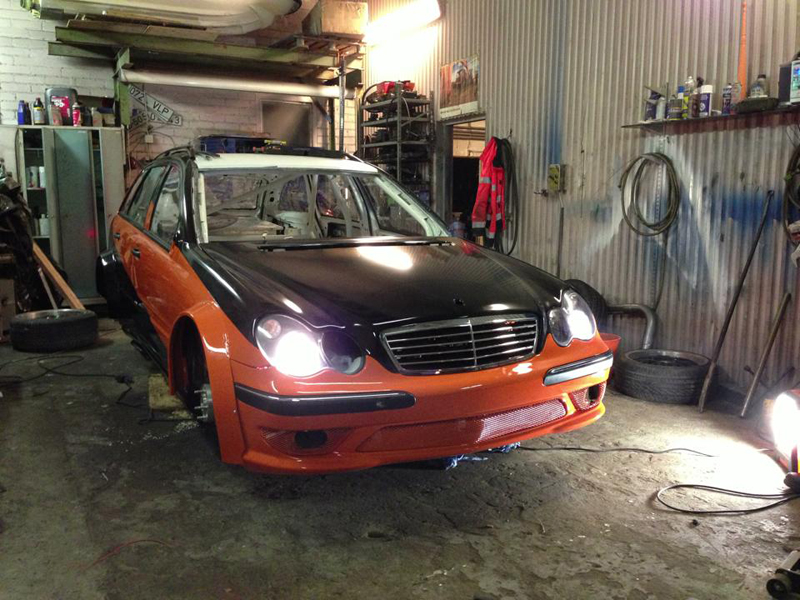 Joining him in the European camp will be Teemu Peltola  and a newly built  Mercedes C class estate turbo Diesel. Can an oil burner be competitive against its high-octane competition? Most definitely we recon! Go along to Team black smoke racing for a closer look at derv drifting.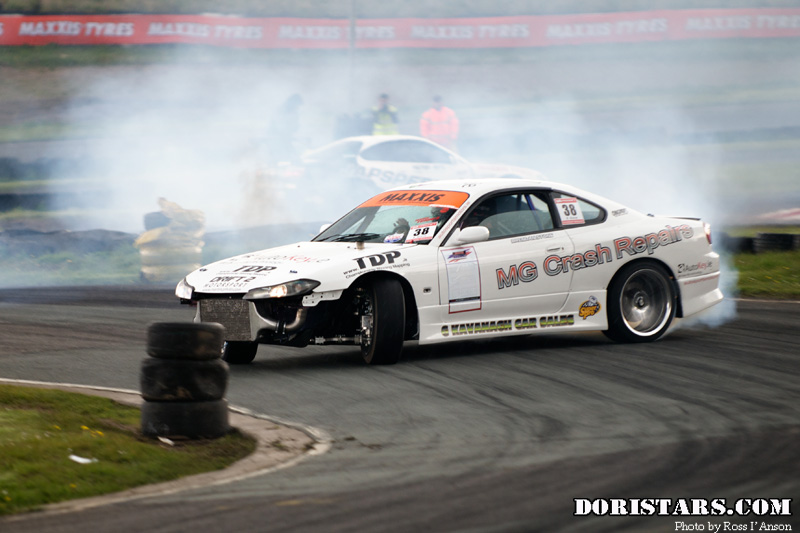 Among the plethora of Irish drivers entering BDC this year 2012 Pro-Drift champion Brendan Stone has confirmed he will contend a full season. One to watch? You bet-cha!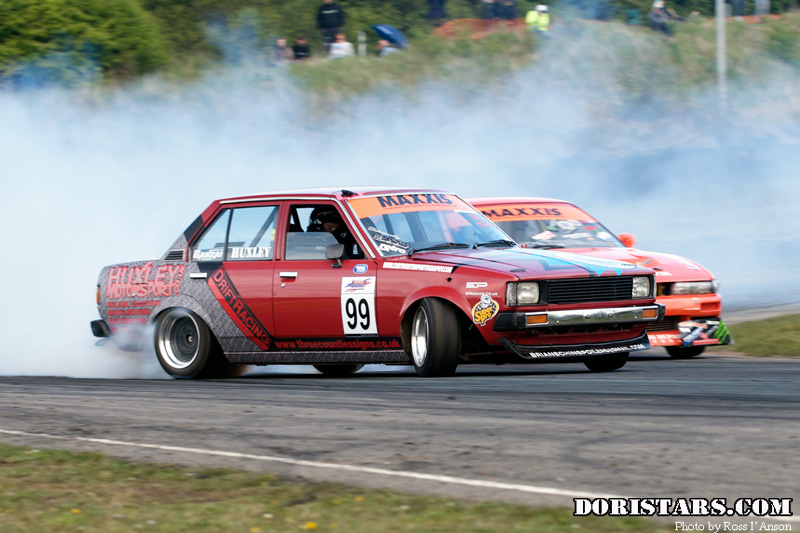 Marc Huxley made BDC history last year being the first person to rise right though the ranks to Super-pro in less than two seasons. It's all change for 2013 though, The Corolla is long gone..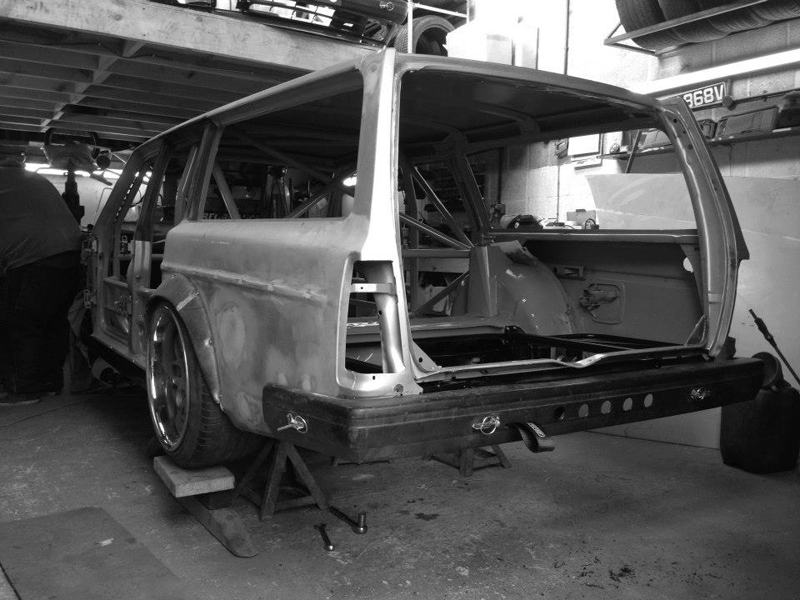 ..Marc's tool for 2013 will be a BMW V8 powered Volvo 245 estate. Looking at the build pictures this is going to be something very special! Marc has been working day and night to get to round one so go give the guy some likes to spur him on. Huxley Mortorsport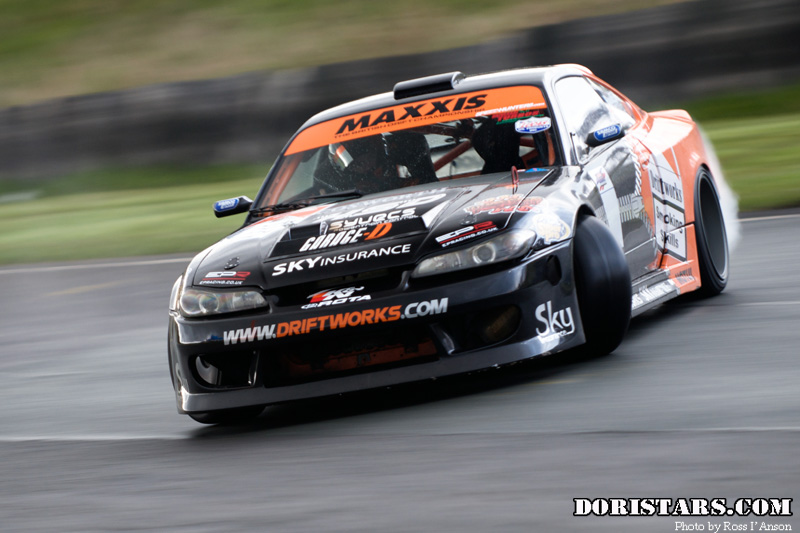 Just to turn up the heat another notch, 2010 champion Driftworks' Phil Morrison has confirmed he will be returning for a full seasons competition.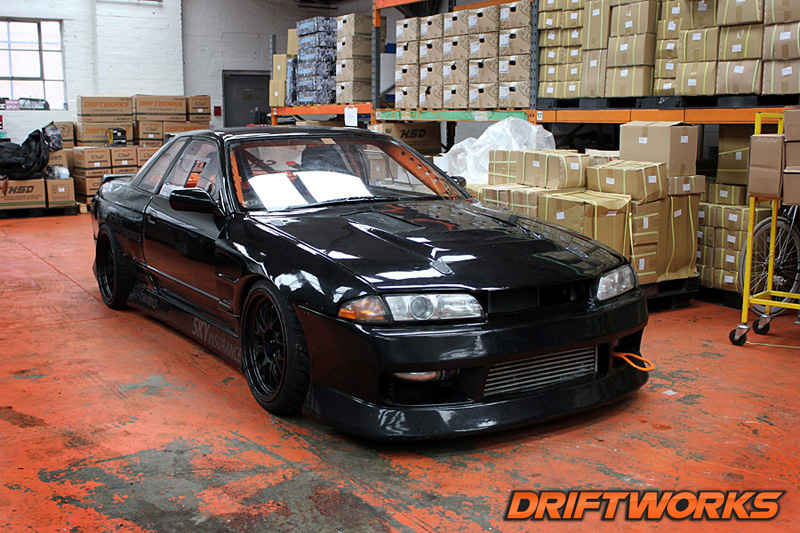 Driftworks are now building their 2013  contender, an AE86 with Ascar running gear and engine. (Yep these guys don't do things by halves) So Phil will be running the face-lifted and freshened Driftworks 1JZ R32 for the opening rounds.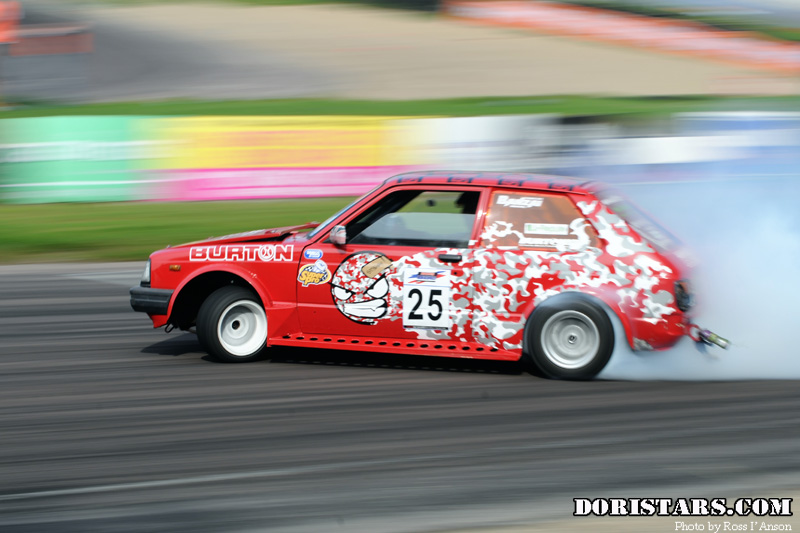 Steve Evans will be subjecting the 'Mighty Starlet' to its 9th year of competition.fully rebuilt and with a fresh Burton Power N/A YB Cosworth motor.. Charrrrge!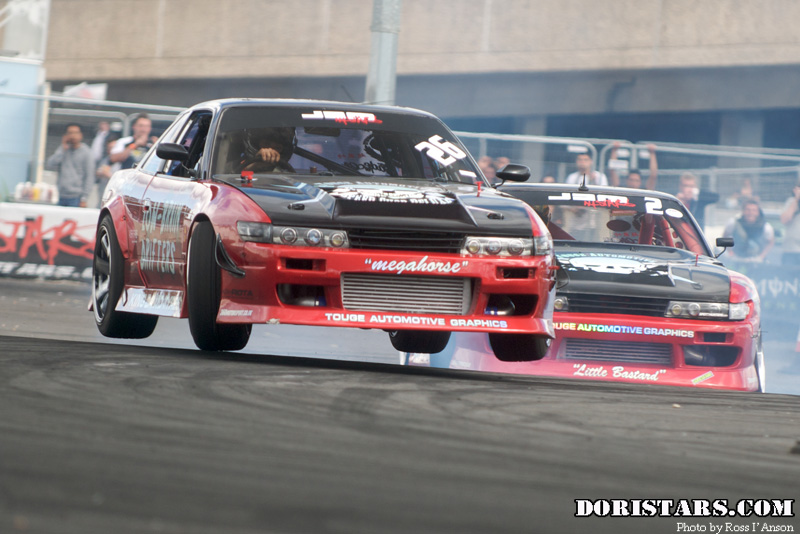 For the first time Team Low Brain Drifters/Achilles Tyres  will be competing in the British Drift Championship. Its looking like the  amazing Martin Ffrench will be returning to competition to take the reins of the crazy Mosler M900 powered 'Little Bastard' PS13. Rumor has it team LBD will be fielding a four car team, any truth in it? we will have to wait until next weekend to find out.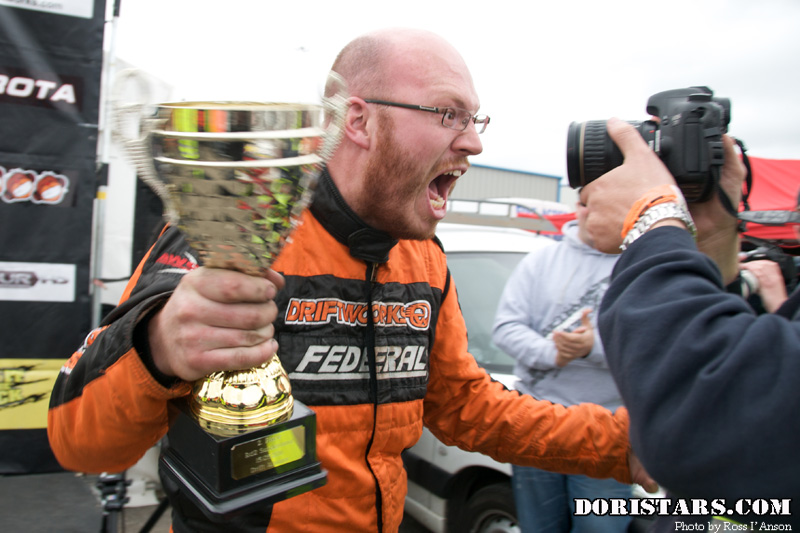 Bon rage will be returning the BDC 2013. Not as a driver but Ben 'more boost' Broke-Smith will in the judges box as an official Judge for 2013..
..With years of experience behind him and a 'no nonsense' approach on drifting he will be the perfect companion to Rich Newton on the judging panel. Judged you will be!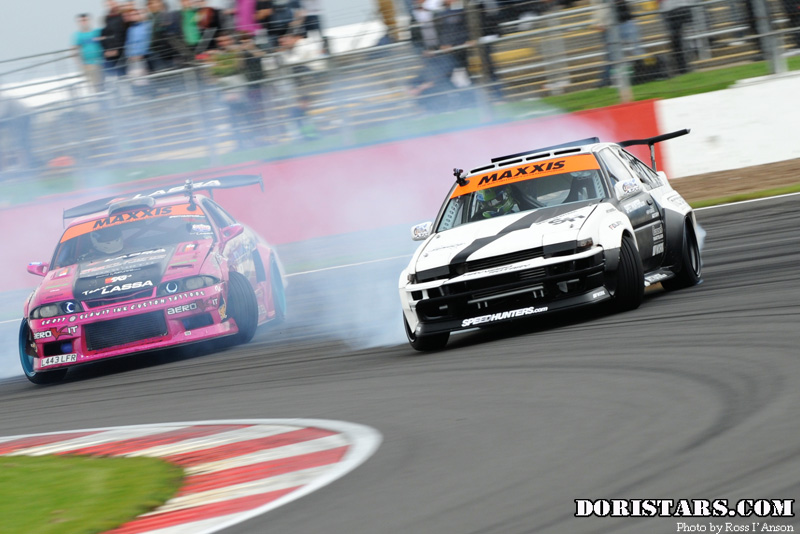 Rumors are flying around think and fast. Formula D's D-Mac running a round of BDC?.. Very possible, big fingers crossed on this one.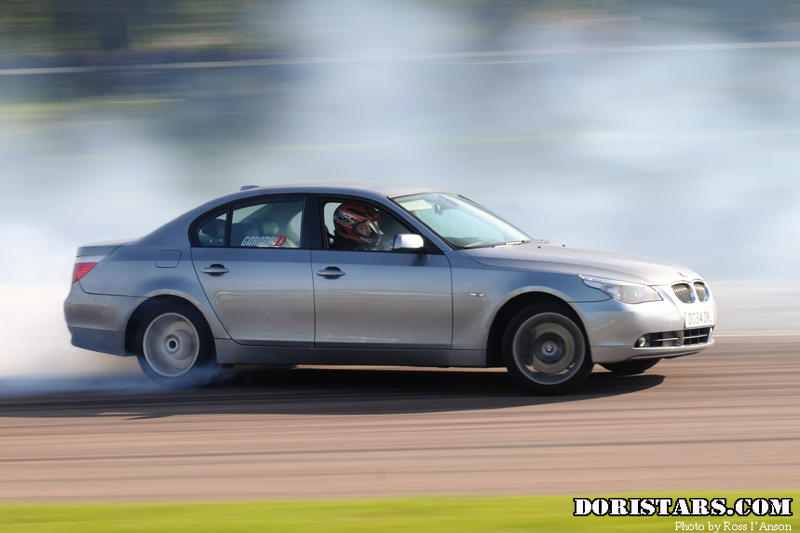 Will Garage D's Julian Smith be making a return to UK competition?
With a heady mix of ex-champions, drift legends and hungry new blood, the BDC Super-Pro class is going to hotter than a hot things hot bits in a hot place… Pretty damn hot!
As if that's not enough there are two other classes to conciser. BDC Pro came down to the wire last year and this year will be  no exception.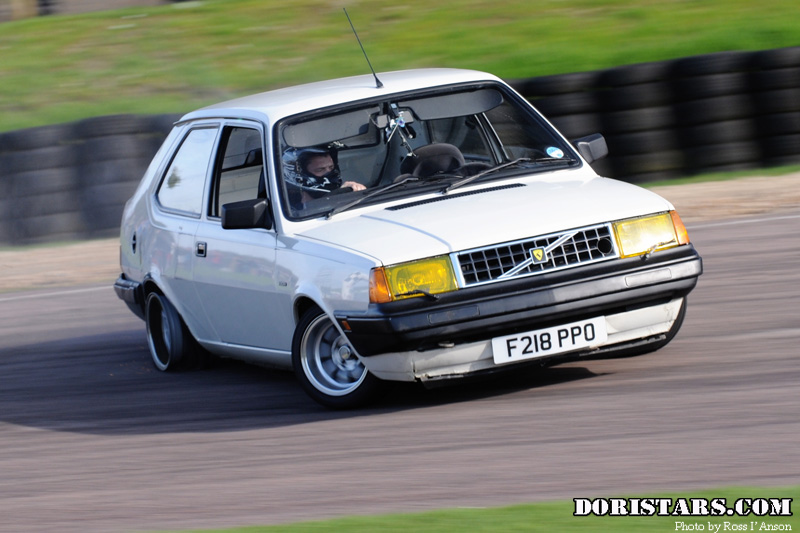 Dan Firmager recently gained his pro license and will be running a 1UZ powered Volvo 340. Dan is one of the most naturally talented drivers I have seen a long time! Cant wait to see how he settles in with the V8 Volvo.
And speaking of natural talent. After a long absence from competition Mike Gaynor  is back! Famed for his no-nonsense driving style and giant slaying ability. The 2008 EDC Knockhill top qualifier (in a car built on a 'found it down the back of the sofa' budget) is teaming up with seasoned Super-Pro driver Wayne Keeber with Team Car Media Racing for 2013.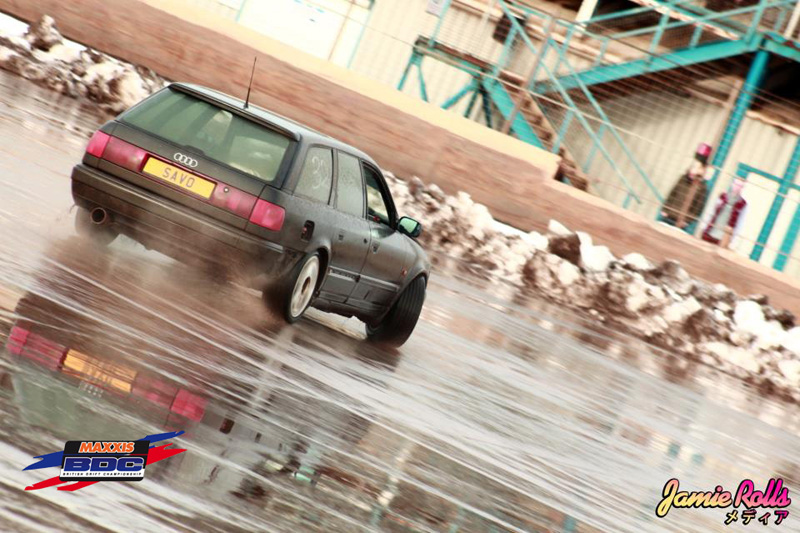 Looks like something you would take to the dog to the park in but sounds like a group B rally car, awesome! Chris Savage got his Pro license for lap after lap of consistency, one to watch for sure.
700HP Japanese machinery is all well and good but I do love a bit of retro metal being thrown round the track..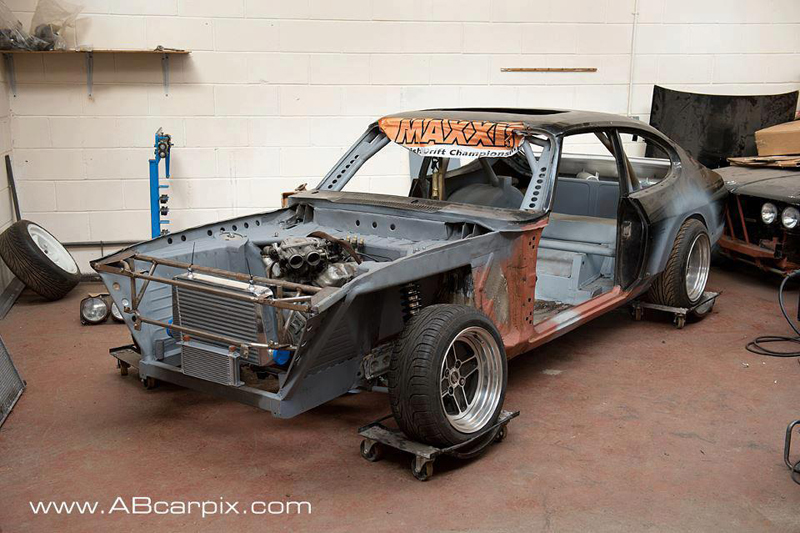 ..And this in my opinion is the most exciting build of 2013!  From the Chizfab garages Ade Brannan will be running a MKIII Capri later in the season. This to me harks back to everything good about the 80′s. Zakspeed and the DRM series, Bodie and Doyle and my first ever car!  I can not wait to see this in the flesh!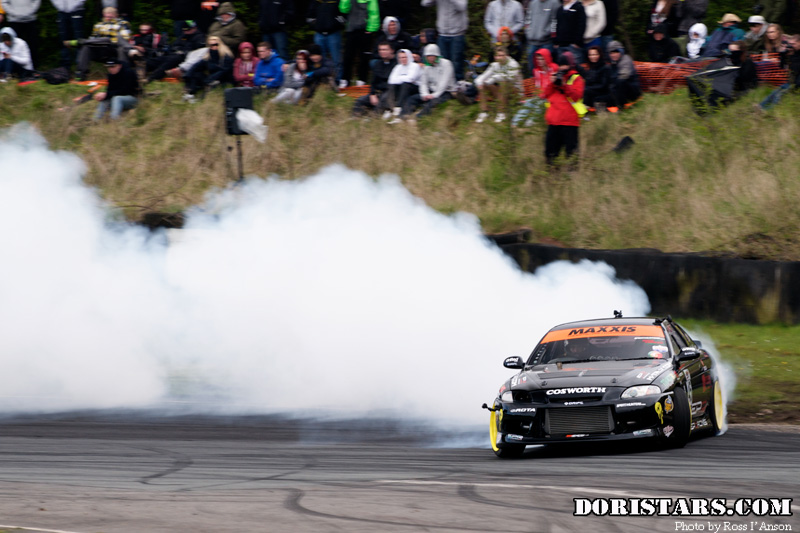 If you think the driving in the lower classes is any less spectacular, then think again! If anything it actually harder fought..
.. The BDC's promotion system allows drivers from both Semi-Pro and Pro classes progress to the respective higher class.
The top four placed drivers are given a chance to qualify in the higher class at the next round. If they qualify twice within a season in the higher class they get promoted.
The effect of the promotion system is a little like a drop of blood in shark infested waters.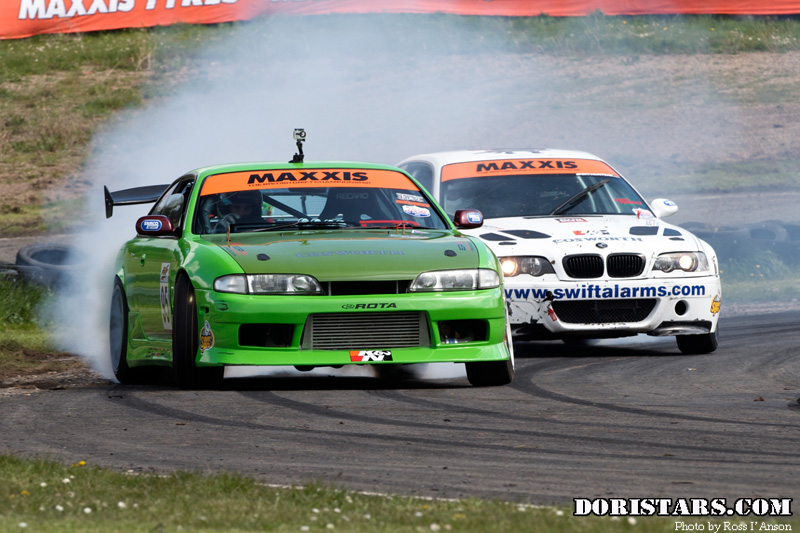 Every inch of tarmac counts and is fought for tooth and nail. Prisoners are for pussies, and non will be  taken. If your going to win, BDC 2013 is the time to do it.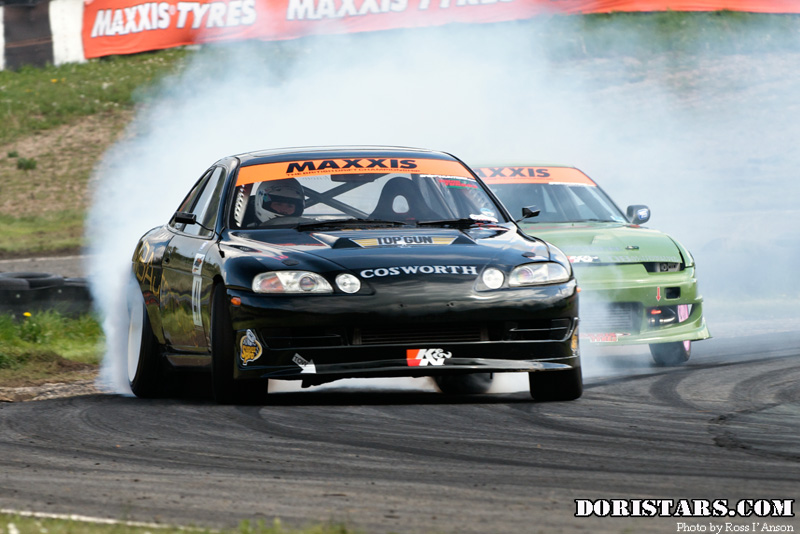 ..I have said in an earlier post that 2005/06 were the 'golden years' of drifting. And they were, anything seamed possible drifting was moving on, dawn of a new era, yadda yadda yadda..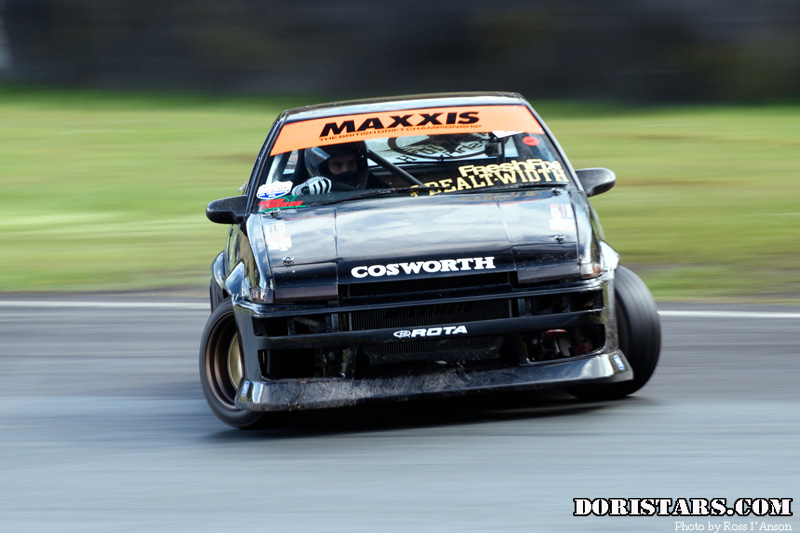 ..But here we are in 2013 and everything has turned full circle. I truly believe are just about to embark on the most exciting year of drifting yet.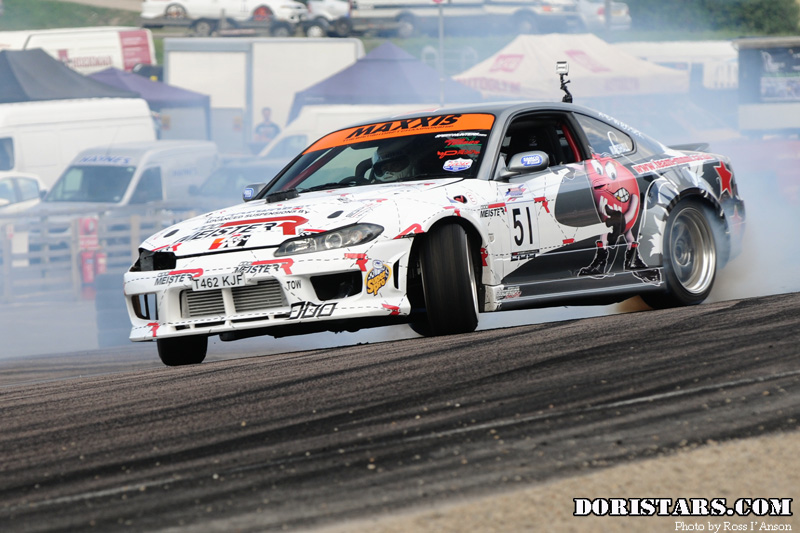 ..With an influx of new talent emerging from Buxton, Santa Pod, Norfolk and all the practice venues across the UK, combined with the seasoned Pros and legends of UK Drifting, all converging into the Maxxis British Drift Championship 2013..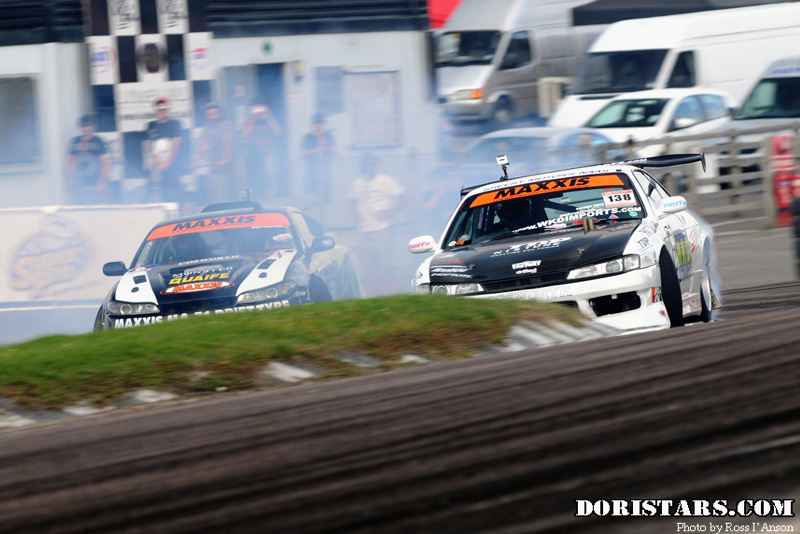 ..You have the perfect storm! So tune for maximum smoke, flatten the throttles and head into that big ass wave Clooney style. BDC 2013 is commin at ya!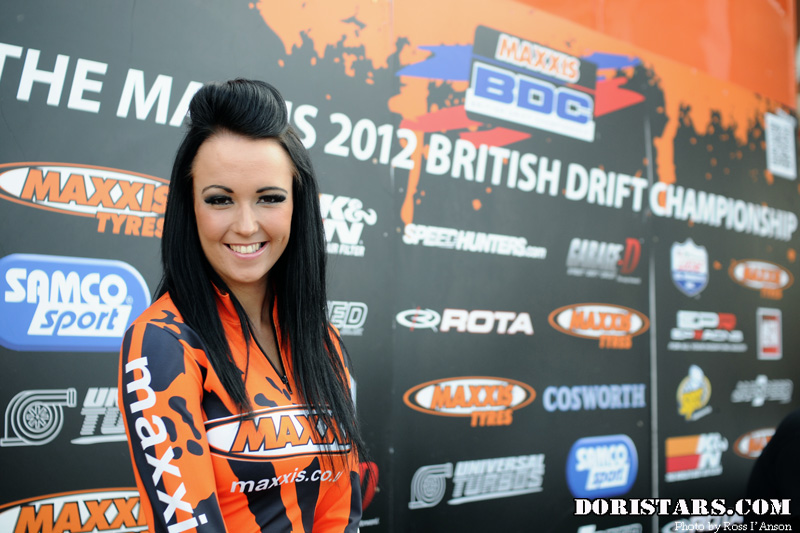 Last year was 'go hard or go home' this year its gonna be 'Go harder or don't even get out of bed'! Personally I cant wait, bring it on.
Ross.
Thanks to. ABcarcarpix, Jamie Rolls, Huxley Motorsport,   Black Smoke racing and  Lucas Oils Drift team for the additional images.
Maxxis British Drift Championship 2013
For the photographic history of the BDC and Drifting in the UK click here