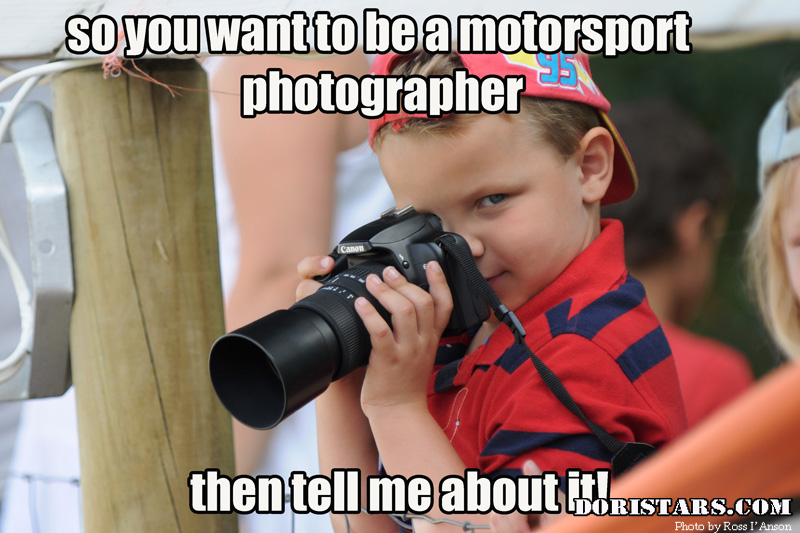 Well, welcome to the brand new Doristars.com! We still have an enormous amount of work to do so there will be many updates and tweaks coming over the next few months, with the biggest by far being a total overhaul of the gallery section to make it more user friendly and searchable.But  saying that we are now fully operational and ready to embark on our next chapter in UK Drifting. Apologies for the cheesy 'meme' style opening image, I will explain more later in this post.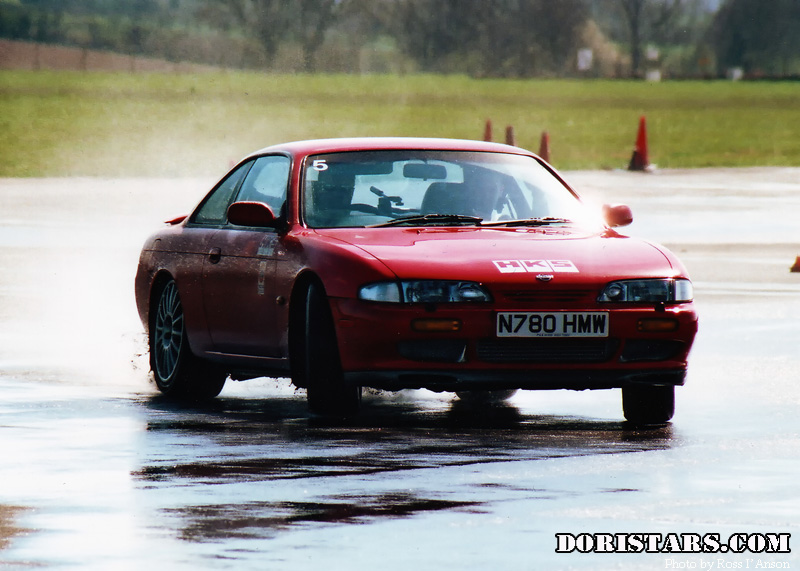 It's good to be back! It feels like settling back into your favorite arm-chair and finding still warm Cuban in the ashtray, hitting the remote and finding a Mythbusters marathon on the TV. But comfort leads to complacency and complacency leads to disaster! UK drifting has changed dramatically over the last decade so Doristars is going to have to  change dramatically as well.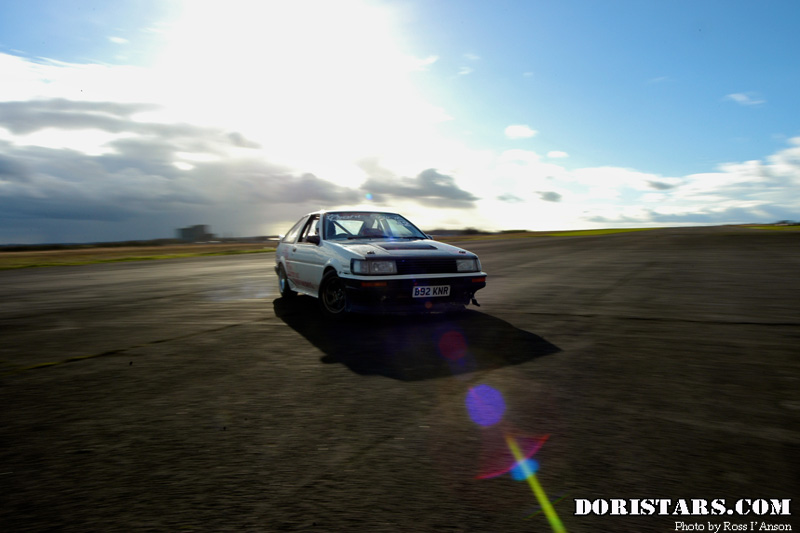 Doristars was officially launched back in 2004 but the concept goes back  to 2001, on an airfield in Northamptonshire to be exact. I was a youngish 'photographer' (I use the term very lightly there) straight out of college desperate for a subject to call my own, I attended my first drift event and that was it.  A small group of people in rear wheel drive cars driving a coned course with the only aim to drive the course as sideways as possible, I was instantly hooked.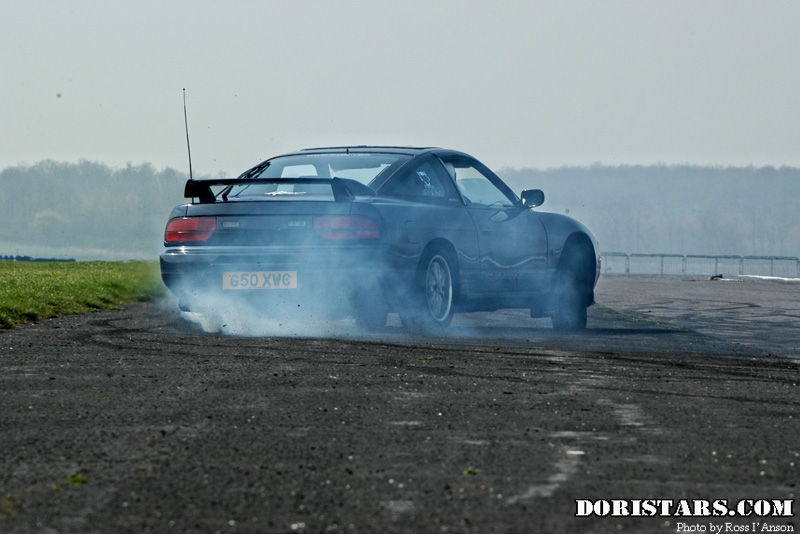 Not only did I see Drifting as a perfect subject to point a lens at, I saw the potential of the sport as well.  Back in 2001 Drifting was almost unheard of as a sport in the UK, yeah every petrol head with RWD car was familiar with a little sideways action, but Drifting as we know it now was very far from a recognized form of motor sport.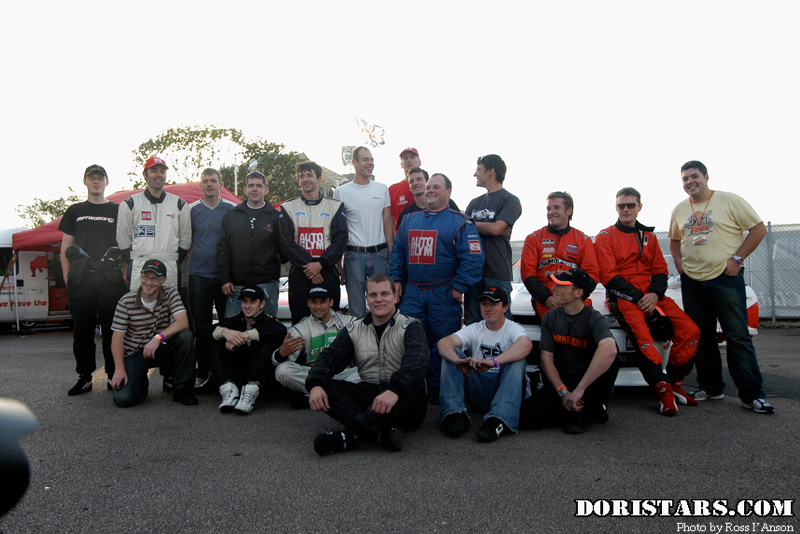 This is where my original concept of Doristars begins. I  wanted to do what ever I could to help promote not only the fledgling  sport, but the drivers and the people pushing Drifting in the UK forward in the only way I could.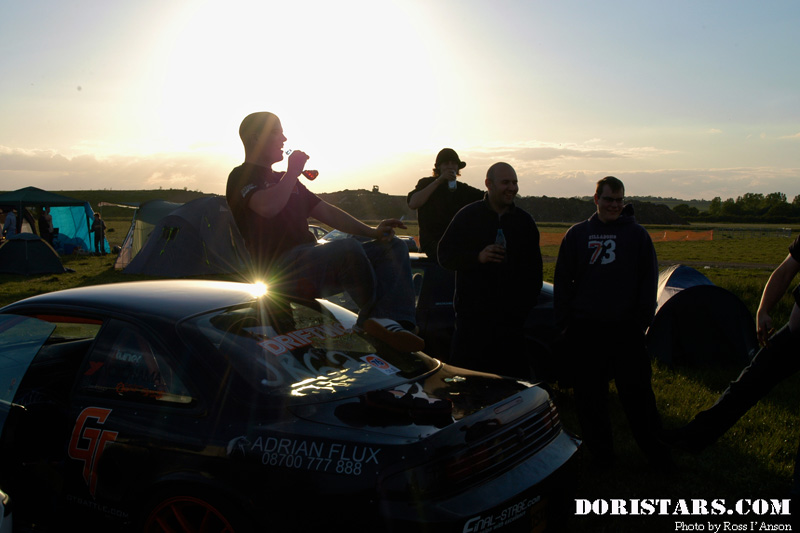 So Doristars was born..
Dori: Shortened version of the Japanese word for drift,

Stars: One who is highly celebrated in a field or profession.
So cutting it back to the basics, A website showcasing the up coming stars of UK Drifting as well as the sport itself. So I started going to every drift event I could get to and photographing the people and the action on track, creating a permanent photographic record. So people could perhaps see Drifting as I saw it, A new and exciting form of motor sport.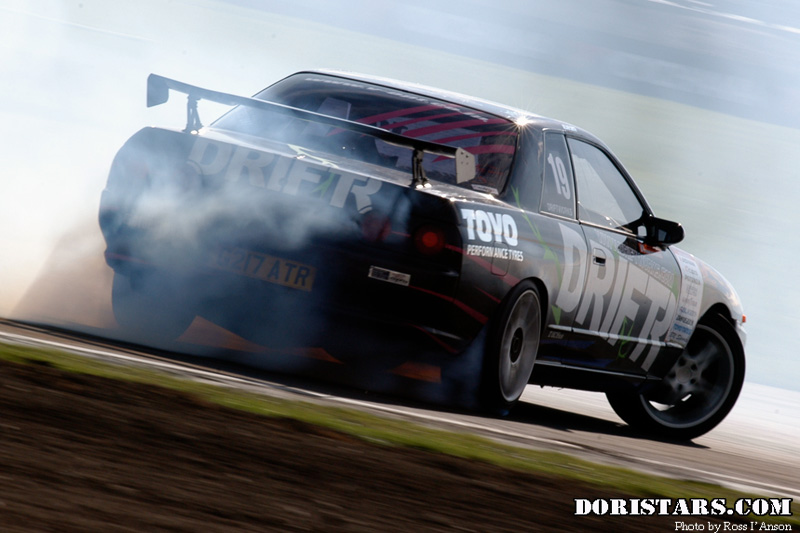 Over the years drifting progressed from 'guys on a airfield' to proper tracks. Seriously, the first time I set foot onto the tarmac of Silverstone to shoot a drift event it was a full on "we're gonna need a bigger boat" moment.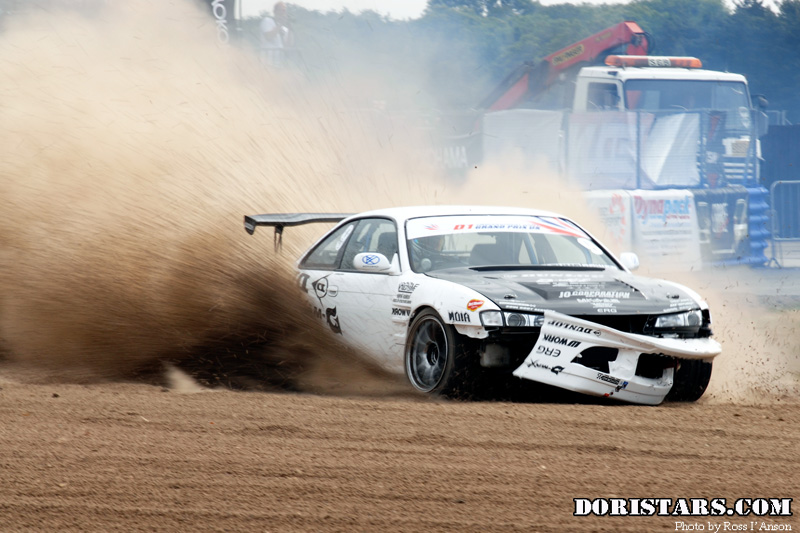 2005/6 were the golden years! Anything was possible. Even the redeemed Gods of drifting from the East  came over to the UK for a Demo event. This was a game changer, not only did it show what was possible on our own tracks it showed what was expected of the UK to stand proud on the world stage of Drifting.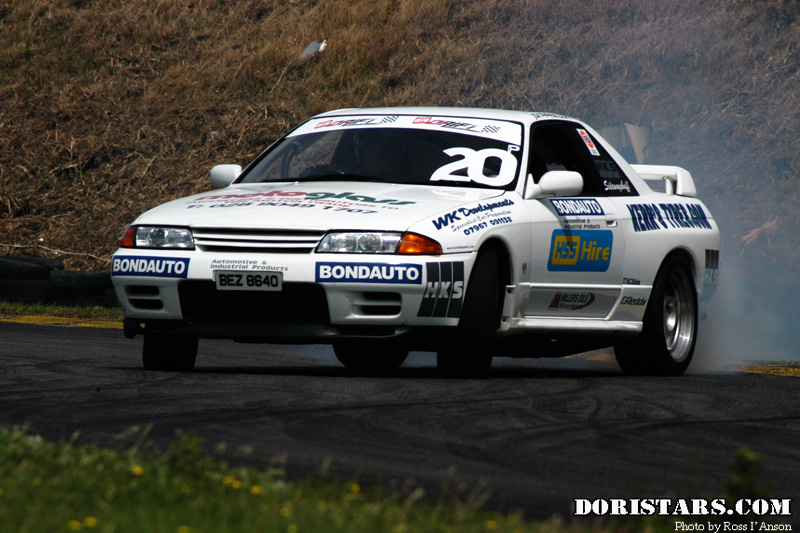 The success of the  Silverstone D1GP demo opened doors. Not only for drivers but for every aspect of drifting, for the first time people were thinking "hey, perhaps these guys are serious, it might be something worth looking at".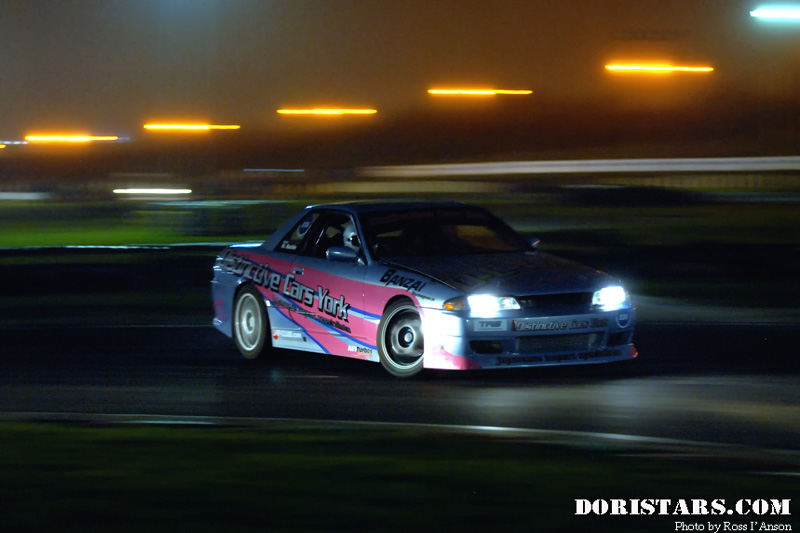 And this is something I am very proud of. Doristars.com captured it all!  Ok my description of events above is a massively condensed version, but Doristars.com has been there all the way. In eleven years we have covered 99% of drift events in the UK and  published nearly 22,000 images from major events to local practice days.
Along the way Doristars.com has helped a fair few drivers gain support and sponsorship in their drifting career, and working alongside series organizers we have helped to promote the sport to where we are today. So that's it, original concept achieved, pat yourself on the back and go have a nice cup of tea… Not  a chance!  I think there is much more to do..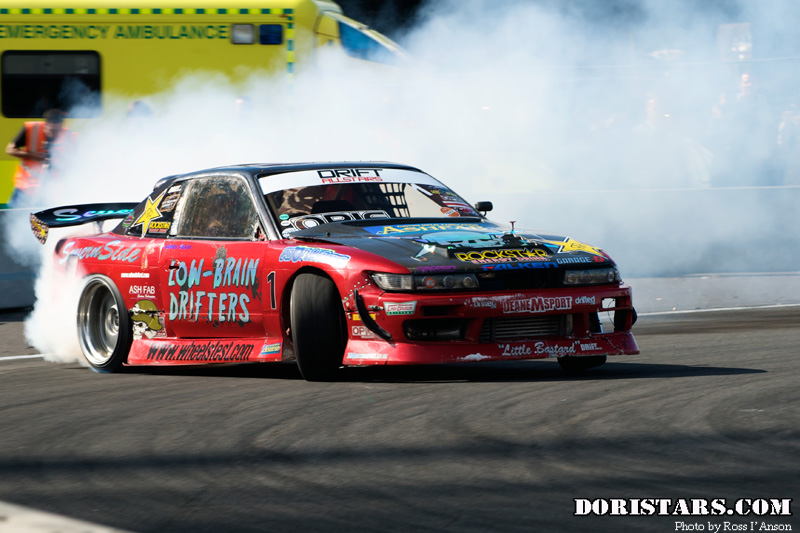 I have said Doristars will have to change dramatically so what can you expect from us over the coming months? Well you can expect the same photographic record of events that we have always provided, Thats not going to change. We are not going to be doing in depth event reports, I'll leave that to my good friends at Speedhunters.com and Drifted.com. But for the first time Doristars does have a voice in the form of the newfangled WordPress format,  so expect interviews with drivers, teams and the people behind the scenes. Along side features on the most interesting and radical builds as well as news and fingers crossed scoops from the UK drift scene. Plus my own ramblings on drifting in general (well its my soap box and if I want to shout from it I shall).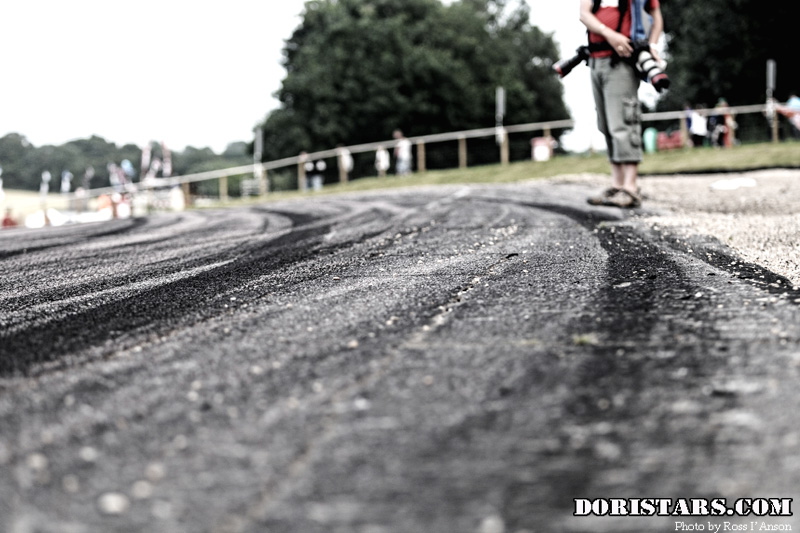 For the first time Doristars will be sponsoring an event. The new and exciting Retro Drift Challenge asked us if we were interested in sponsoring an award. So I decided to put my money where my mouth is and jumped at the chance.  So I can proudly announce Doristars.com will be sponsoring the RDC Doristars Hard Charger award with a unique trophy.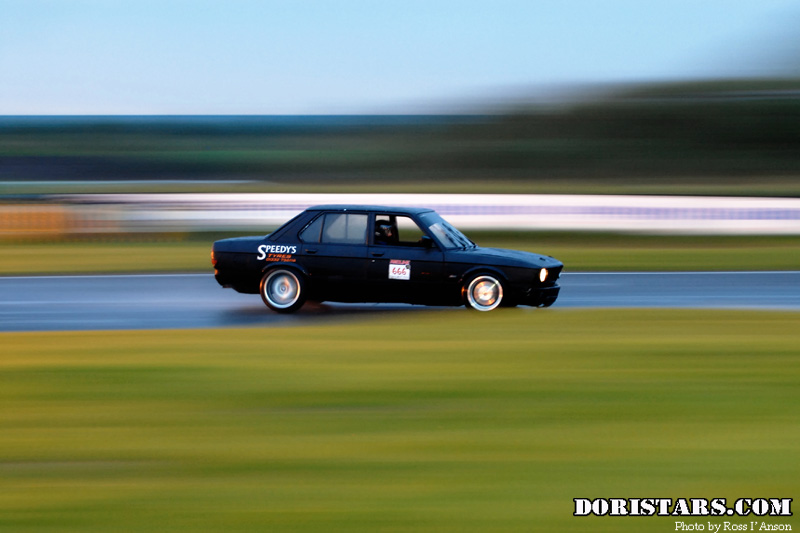 But the biggest change in Doristars is probably the hardest for me to swallow.  I wont be shooting the events! For the last decade Doristars has been brought to you by Laura Sherren and Myself. But I'm burned out, im the last burger on the BBQ  after the beer has run out. I just don't have the desire  dedication or time to visit every event in the UK anymore.
But what do you do when the BBQ is dieing? You re-stoke the coals send out for more beer and get some fresh meat on the grill! which brings me nicely to the opening image in this post..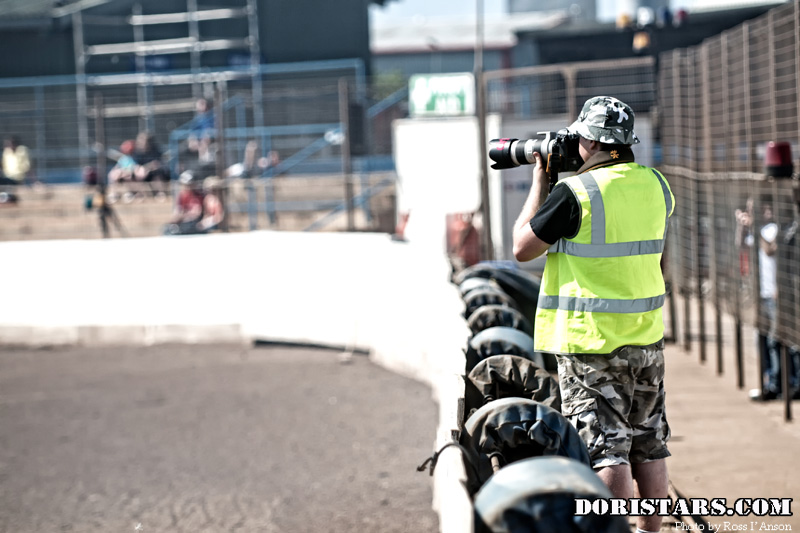 Drifting has always been blessed with an incredibly talented bunch of photographers willing to give up their time to do an amazing job of recording events. Over the years I have had the pleasure of working with the best of them, and some of them will be guesting here over the next few months. We have some fantastic photographers lined up, but what I'm really looking for is new talent! My vision of Doristars.com for the future is not only showcasing the very best of UK drifting but showcasing also the very best in up and coming photographers. You think you have what it takes? read on..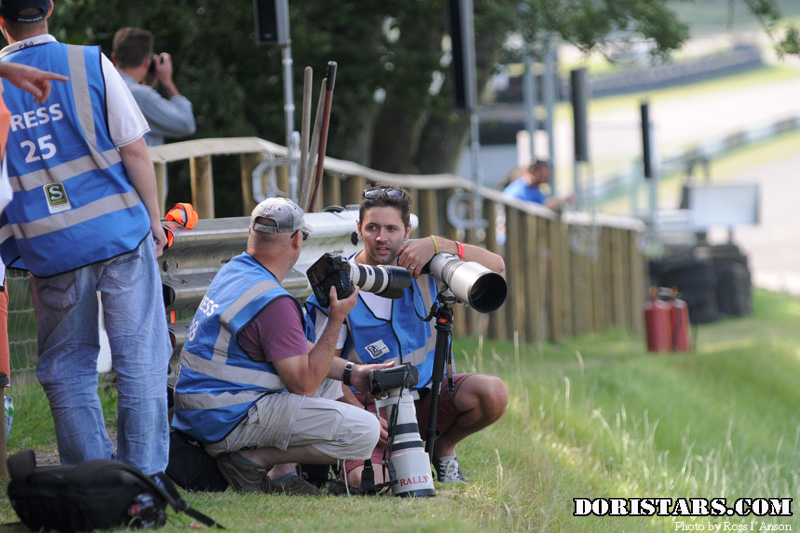 So motor sport photography. Its easy right? You rock up to an event, put on your hi-vis jacket, then hang out with big lenses with the best seats in the house shooting a few frames.You then go home bang a few pics up on Facebook sit back and wait for the 'likes' to pour in and your done right?.. Wrong!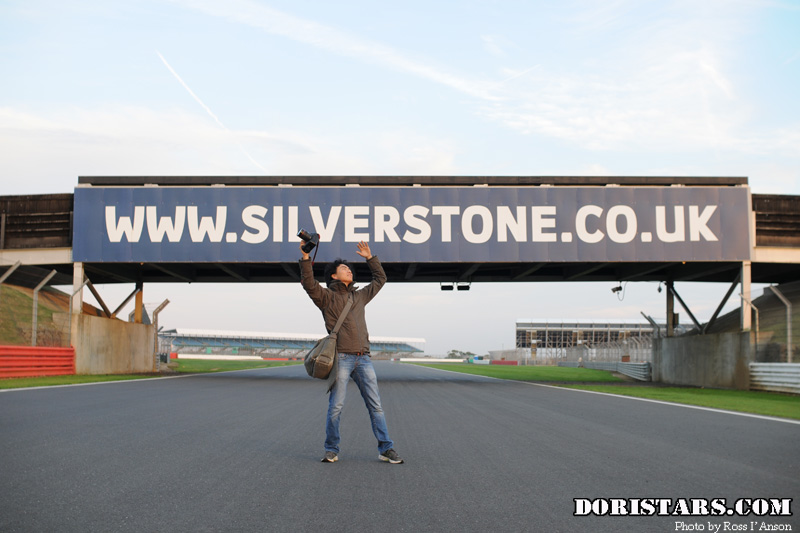 Granted you will visit some seriously cool places, but its an early start followed by a very late finish, and when you get home with deadlines looming your work is just starting. Quite frankly the hours suck!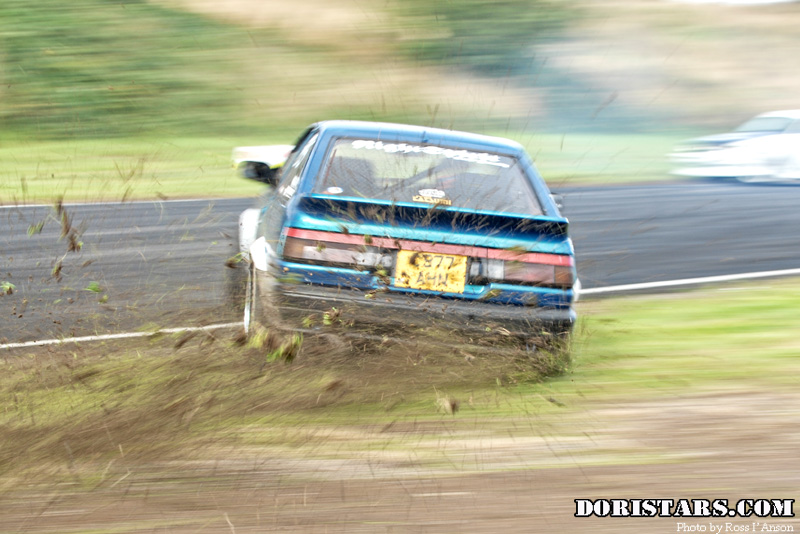 You may have the best seats in the house, but remember this puts you right in the firing line..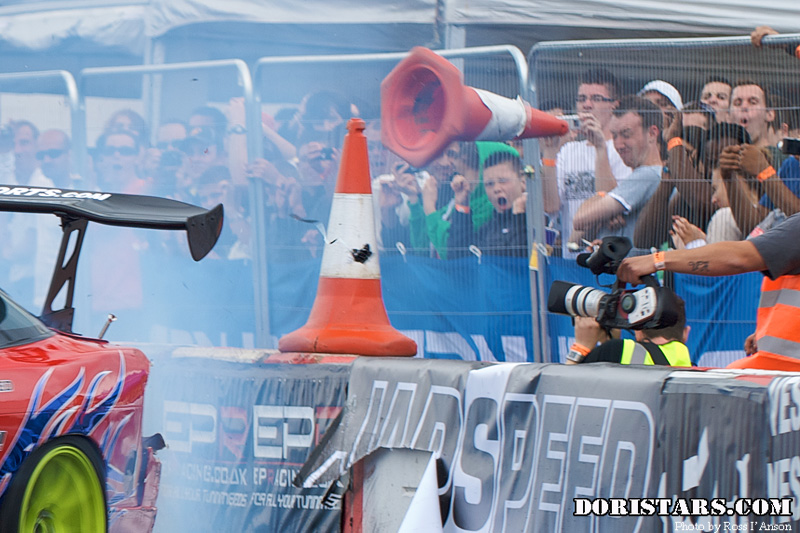 ..When you sign on as media and step past the fences you are giving up all safety and protection that paying spectator has. In the last 11 years I have suffered broken ribs, nose, minor cuts and abrasions and been knocked unconscious twice. I have actually seen gravel smash through the front element of a lens. When shit turns bad it happens fast and is normally coming your way, motor sport is dangerous, never forget that.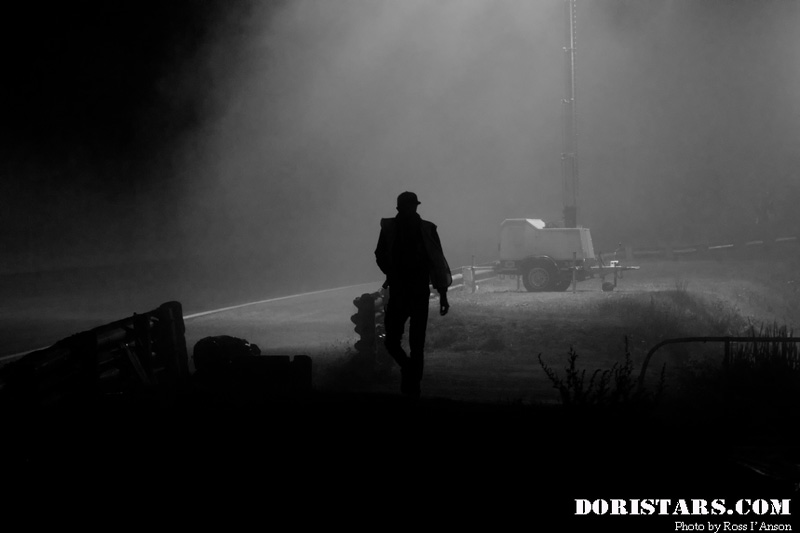 Have to ever tried to shoot a black cat in a coal shed?  That's what shooting drifting at night can feel like, throw in  some torrential rain and a little fog and your brief can seem like the most impossible thing in the world.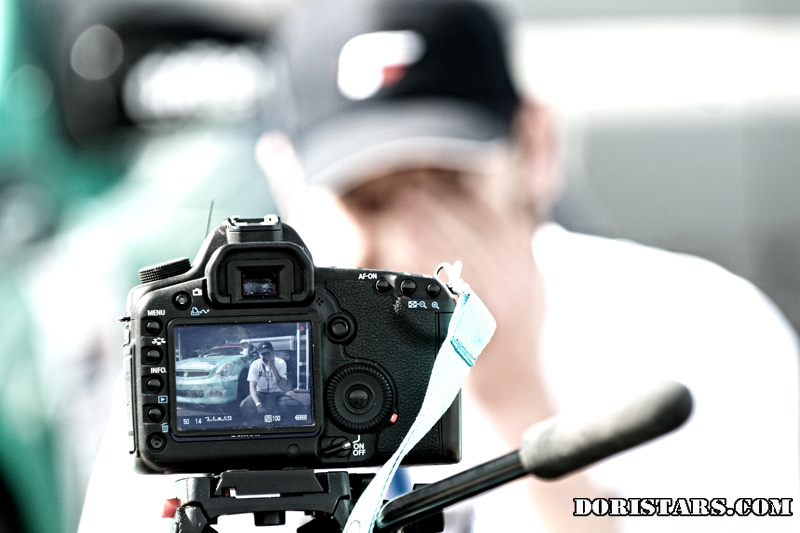 Race day in the paddock is a hectic place nobody cares about your brief or your deadlines. So what ya gonna do you do when your interviewee for the day is tied up in mechanical problems and is unable to give you the time?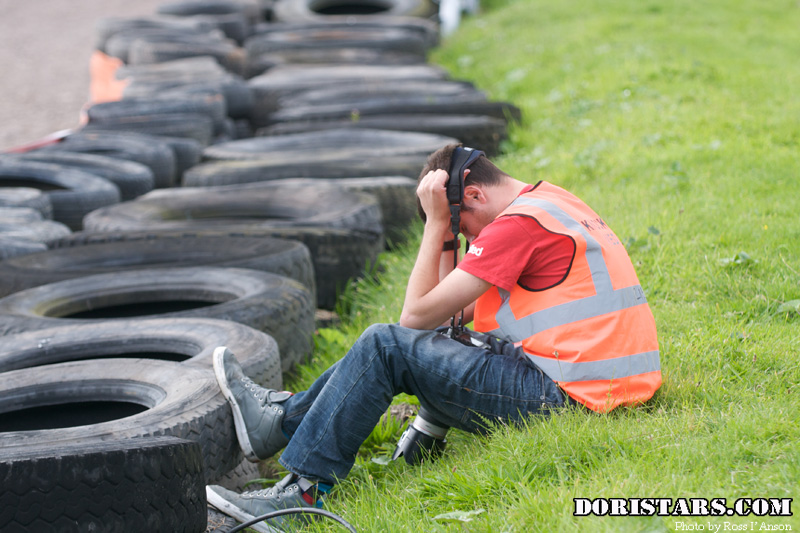 Sometimes it makes you wanna tear your eyes out. Why the hell are you doing this?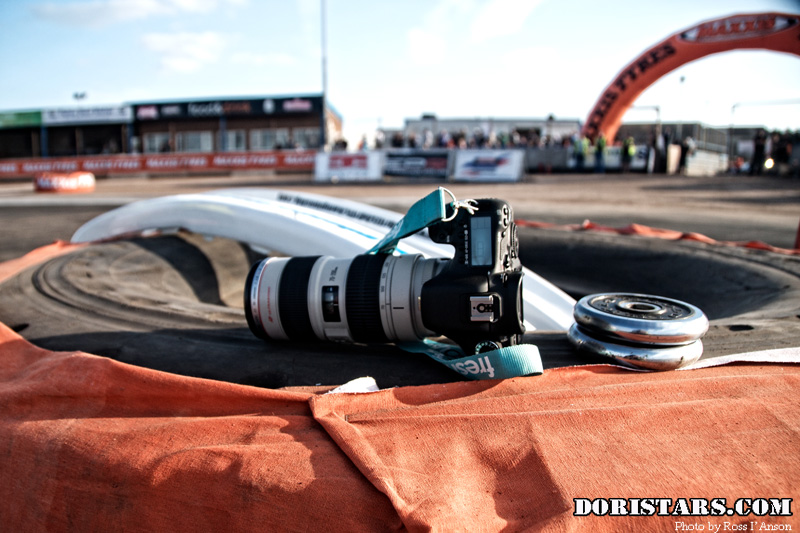 If you give your camera a kiss before putting it away in cotton wool for the night don't even think about setting foot into the motor sport arena. It's a harsh environment that will take its toll on your equipment. Mud, dust, rubber all mixed in with little rain will age gear quickly. If your precious about your camera then perhaps it's not for you.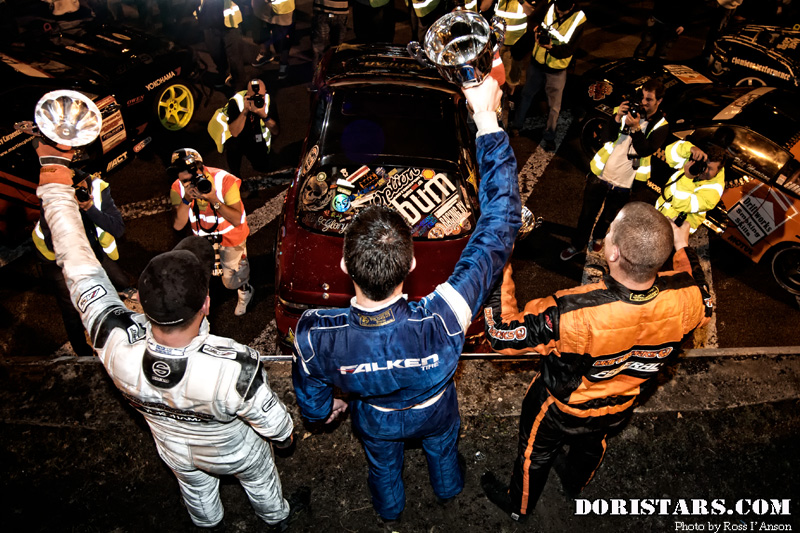 Your just going to be another face in a sea of yellow. What makes you stand out from the crowd?
That's the bad points. I'm sure I have missed some but you get the picture, its not all cake and coffee! But saying that the good points vastly outweigh the bad, if you have an interest in motor sport and photography its the best job in the world!  The thrill of the chase, getting "that shot" The hours,dangers and general arse ache pale into insignificance.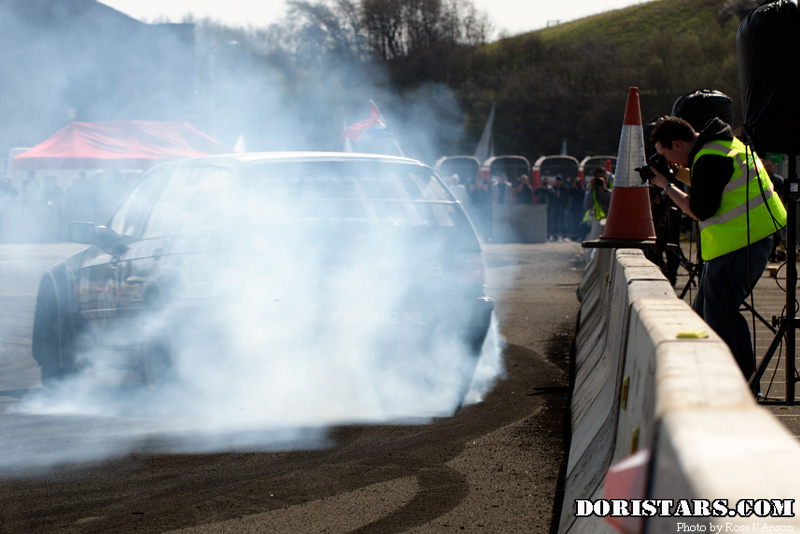 So you can probably gather I'm going to be asking allot from anyone who wants to apply to be a photographer for Doristars.com. So what can Doristars do for you?  I will give full details on successful application, but expecting you to shoot to my deadlines and brief for no reward is not on the agenda.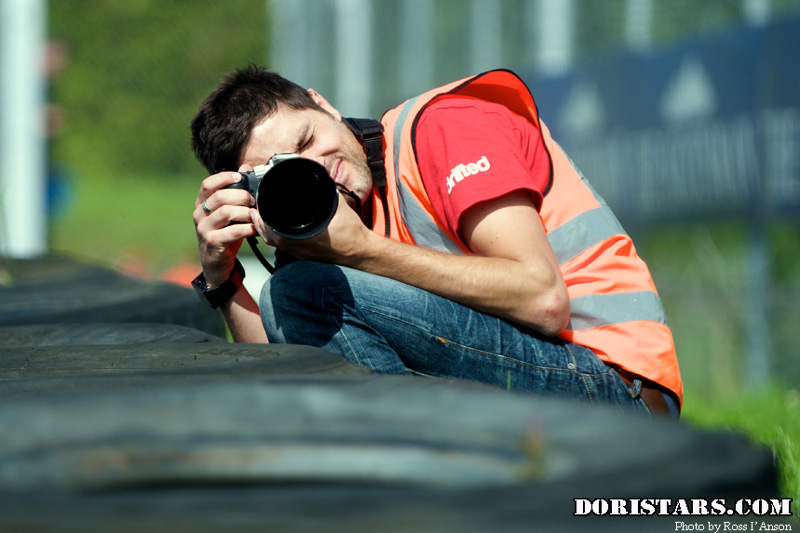 What I'm offering is the full package. From your first media application to a professional motor sport  event, to working to a professional brief and deadline, along with feedback and advice on your images as well as exposure and marketing of your work.
Anyone can buy a camera and set themselves up Facebook 'photographer' page  Do you want to know how to do it properly? I cant promise what will come of you shooting for Doristars.com but I can say it will give you a foot on the first rung of the very very tall ladder that is professional motorsport photography.
If your interested I'm looking for people all over the country to shoot everything from major events to local practice days. So if you meet the following criteria..
Have your own transport to events (a must)
You are over 18 years of age
Have your own camera equipment (DSLR minimum)
You know your aperture from your asshole
You have a basic understanding of FTP or dropbox
You can work to tight deadlines
You have good communication skills
Having your own Public liability insurance would be good but not essential
You live in the UK
You are not a dribbling idiot
Then send a portfolio of your images (they don't have to be motorsport related, im looking for talent not subject matter) along with a few words about yourself and why you want to shoot for Doristars.com (no essays I have a very short attention span) to photographer@doristars.com
I look forward to hearing from you.
Ross.